I've been trying to write a blog about 2012 for the past week and finding I can't do it; it's difficult to put this crazy year into sentences and paragraphs.
So instead, here are some facts about Haynes Music Productions in 2012, some interesting, some bizarre and some downright boastful:
1      Composed music for 56 promotional films, including for companies such as Hyundai, Microsoft and Vodaphone.
2      Produced six full-length albums, seven EPs and 23 single tracks for solo artists.
3      Drank approximately 600 cups of tea.
4      Recorded 12 assorted farts for a very special fart watch to be launched soon.
5      Went to the top of Google for Music Producer UK.
6      Did the Dallas Theme in the style of Kraftwerk, a swing version of Mission Impossible and a new Bond Theme.
7      Recorded someone's life story.
8      Wrote a piece of music that was played in front of the Queen.
9      Recorded a chap singing olde English folk songs a capella.
10   Wrote some music that helped raise £1.5m at a celebrity charity auction for Caudwell.
11   Was the first prize at the Five Lamps 24-Hour Film Challenge in Derby.
12   Composed a load of heavy metal for an animated Bill Bailey interview and saw it played at big screens around the UK.
13   Invested in some lovely new equipment, including a Fender Telecaster, a beautiful Takamine Acoustic, a mandolin, a Paiste 602 Ride cymbal and an AKG 414 microphone.
14   Composed pieces of music for baby yoga and sleep hypnotherapy.
15   Learnt how to boom mic, the first person I had to boom mic being Pollyanna Woodward from The Gadget Show.
16   Produced artists from as far afield as Los Angeles and Greece.
17  Had an entire phone conversation with uncontrollable hiccups and still got the job.
18  Met loads of excellent new people.
Right, well that's me done for the year; have a smashing Christmas and see you in 2013.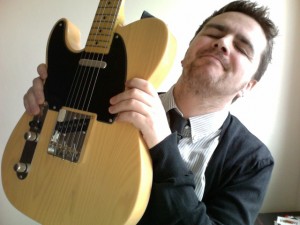 By Ben Haynes