The new EP by Chris Egan, produced by me this year, can be downloaded at http://chrisegan.bandcamp.com.
The first thing Chris and I did was connect over our mutual love of REM. Their influence is all over the EP, from Chris's singing and lyrics to the instruments and production.
There's an Out Of Time feel to Wonder Parade, Hangnail could feasiably have appeared on Green, Newcomers Welcome wouldn't have sounded out of place on Lifes Rich Pageant. But at the same time, there's enough originality to stand on its own as a superb and innovative piece of work.
Originally intended a three-track EP (Afterthoughts & Letters, Winter Sun and Wonder Parade), Chris's prolific songwriting combined with the fact that we worked very quickly together meant that we had six tracks completed before we knew it.
Afterthoughts and Letters. What I love about a lot of Chris's songs is that instead of harmonising with his lead vocal, he does a bit of spoken word. It's hugely effective and it's all over this EP. This song was always going to be the opener; a beautiful melody and strong vocals from Chris.
Newcomers Welcome was the Marmite track of the EP. For the longest time, neither Chris nor I could decide whether we loved or hated it. We spent longer mixing it than the rest of the EP put together. We wondered if it fit in with the more laidback nature of the rest of the EP. But in the end, Chris put his balls on the line and decided to put it second, and I think it works there.
Winter Sun is probably my favourite of these songs; wistful, sunny and laidback. Chris actually had a lot of the guitar lines to this already done on his rough demo so my main job was to just get better recordings of everything. I also added the very early U2-like guitar and my wife Sarah added some lovely backing vocals. I could listen to this song all day. It's like a great lost b-side.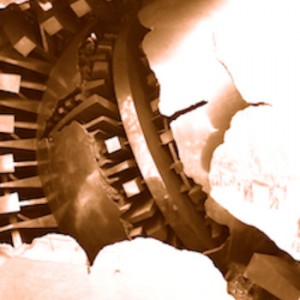 Hangnail was recorded live, Chris singing and me sitting with an electric guitar (so you can actually hear the skeletal strumming in the background). A lovely short song, and one to possibly develop in the future.
The Wonder Parade is full of acoustic instruments and a wonderful feel; probably the most conventional song here but in a very feelgood way; another big favourite of mine.
The bonus track, Submergence, was just Chris and his acoustic guitar, played completely live.  It's an old track of his which suited the end of the EP.
Personnel:
Chris Egan – Vocals, backing vocals, spoken word, harmonica on Winter Sun, acoustic guitar on Submergence
Ben Haynes – Drums, electric and acoustic guitars, bass, backing vocals on Wonder Parade, organ, piano
Sarah Haynes – Backing Vocals on Winter Sun
By Ben Haynes