In this day and age, recording can be done almost anywhere. As long as you have the right equipment, a good sounding place and (most importantly) the skills, you can make great sounding songs in a modest setting.
It may come as a surprise to anyone that I work with remotely that all this time I've been operating from my attic.
However, as my workload increases on a monthly basis and my collection of equipment grows, it seems that now is the right time to try and find a dedicated studio space.
There are a few reasons…
Firstly, I'm running out of room here. There's no space to have my drum kit permanently set up. And I don't want the squished-in feeling I often get to impact on the music in a negative feng shui kind of way.
There's also a limit of the amount of people I can have in there. I actually managed to cram six people in the other day, although it was a such a tight squeeze that I can't be sure that babies weren't conceived.
Secondly, I want to give the artists I record a bit more of an experience. At the moment my set up serves them well, they get a great sound and certainly no one has complained, but it just doesn't feel right. I want a big creative space to fit my analogue mixing desk, some settees to sit and write on and enough room to jump about in.
Thirdly, and this is a more personal thing, I need to separate my home and studio environment. With the arrival of my second child last year, I'm finding more and more that I need to have my home as a home and my studio as a separate place to knuckle down in.
So, basically, I'm on the hunt for a new home for the studio. These are the specifications:
* In my village of Spondon would be ideal; but nearby, or Derby centre, would be fine.
* I'm willing to rent or possibly buy.
* I'm looking for either two medium sized rooms or one large room, preferably not perfectly square in dimension (it affects the sound).
* As I work with sound, ideally the place will not have too much noise coming in and, likewise, no nearby neighbours to complain if I'm playing something loud.
If anyone local knows of anywhere that could be suitable, please email me at [email protected] or call 07930 991775. Thanks!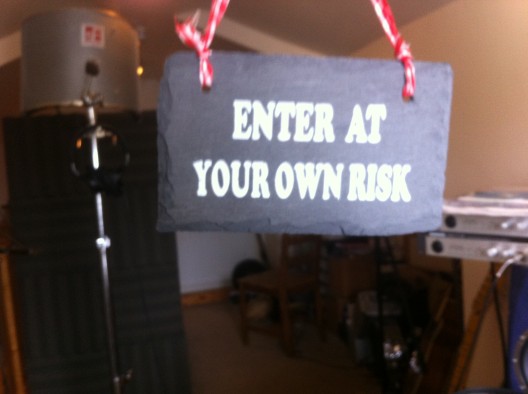 By Ben Haynes