Today sees the launch of Poppyfields, a brand new play about the First World War that I worked on the music for.
It contains a whole array of music, from old English folk, to 60s pop to modern ballads to electronica, and certainly tested my arranging skills!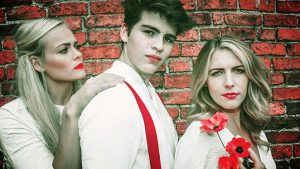 The project began early last year when Shrewsbury songwriter Joe Seager put me in touch with play writer/producer John Howard.
Most of the songs for the play were already written – some were traditional folk songs, some came from UK songwriter Brian Crane, others were written by John's colleagues Paul Martin and Graham Burgess.
My job was the arrange the songs for the stage.  I'd be given a demo and the lyrics and would arrange all the instrumentation, from drums to guitars to brass, and all the vocal parts – some with five-part harmonies!  I sent tracks back and forth to John and he popped over to my studio a couple of times to go through things.  I brought my colleague Matt Elliott to play piano on a couple of tracks, with superb results.
I ended up writing three songs for the play, including the first song on the soundtrack, A Thousand Years.
The last song is the theme song, called Poppyfields. I was given the lyrics to work with and I confess that it took a while to get a tune that I felt portrayed the sentiments expressed in the lyrics.  It couldn't be too happy, yet it had to be anthemic, as it was to be a huge song to end the show.
In the end, I put together quite a brooding song that builds up into a huge climax.  It actually turned into one of my favourite songs that I've written!
Doing theatre work is not something I've had a whole lot of experience of, but it's certainly something I'd like to do more of.  I like the feeling of being part of a sort of gang, which is something I haven't felt since the says I used to play in bands.  I can't wait to see the show on Saturday night.
Poppyfields start tonight at the Severn Theatre in Shrewsbury and runs for four performances until Saturday evening.