Loads of artists I've produced have had airplay over the past month.
George Simpson's Never Leave You Out In The Rain played Jeremy Vine's show on daytime Radio 2 a couple of times.  His new album has sold well and there will be more singles to come throughout the year.
Kezia's Easy Come Easy Go played on BBC Radio Nottingham, Radio Leicester and Radio Derby.  I worked with Kezia on her album Adventures Of A Travelling Mind last year and it's going to be launched at a special invite-only gig at Derby's Revolution Bar on 4th April. I'll be playing drums and staying out the way of the full force of that girl's vocals.
I'll be blogging about the album soon but in the meantime this fractured and experimental track shows the range of her impressive vocals…
Meanwhile, I'm currently working on projects with a soul artist from London, a pop artist from Brighton, a rock/grunge artist from Hertfordshire and an artist from Worcester who pretty much encompasses all three!  More on those coming up…
Overseas work continues to flood in at an alarming rate.  Work goes on with Allison Gray's fantastic new album; if you've listened to my showreel you'll have heard her song If I Fall.  Well, I've just finished her new single Love Is A Diamond, which is an absolute hit if ever I heard one and I can't wait for it to be unleashed amongst you unsuspecting world.  Watch this space.
I've started working with two superb French songwriters; one-and-a-half songs have been completed already and it's been interesting working with French lyrics, of which I understand very little (I did Russian at school; God knows why as it's served me little use).  I'm also on my fourth track with a Greek songwriter; my favourite of his being a beautiful little song called Everybody Here Is Running Around Wide Awake.
And finally, this has got nothing to do with anything but I needed to put a picture in this blog, so here's a picture of a broken telephone box in Berlin.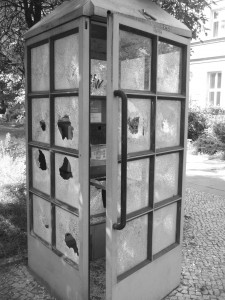 By Ben Haynes