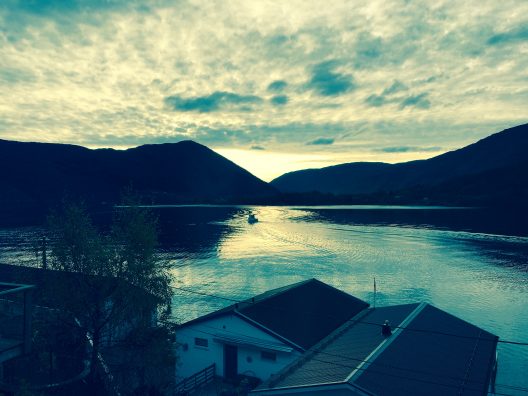 I've been lucky enough to work with artists from all over the world – USA, Australia, Germany, France and more.
The usual set-up is that I create the tracks, then the artist records the vocals at a studio local to them and sends me the vocal files for mixing. And although that works really well, there's always a part of me that wishes I could be there to direct the vocal recordings.
For a recent job (for an artist I'm not allowed to name yet!) this is what happened.  Once the tracks were finished, they flew me over to Norway to record in a beautiful village location overlooking a fjord.
I've no doubt that recording in such a relaxed environment fed my concentration and energy levels.  Instead of staring at my screen during a take, I could look out of the huge window at a small boat slipping across the water.
Lots of natural light, a quiet atmosphere and an endless supply of delicious home-cooked meals meant that I left the sessions feeling chilled and about half a stone heavier!
I will be blogging about the recordings once they are released, but for now I'm back in the real world and about to mix the results.  Watch this space!