It's so-called Black Friday (when did Black Friday become a thing, anyway?) and as I type people are no doubt beating each other up to get £3.50 off a kettle or whatever.
In the music world too, the online giants of music retail have bargains galore – 20% off! 30% off! Buy this guitar now for this mildly reduced price, quick, before that other guitarist gets it, AND THEY'RE BETTER THAN YOU.
Call me old-fashioned but I get most 90% of my musical equipment right here in Derby, where the two main music shops fulfil the bulk of my needs.
As a general rule, I buy my louder instruments (electric guitars, drums etc) from Rattle and Drum and my quieter ones (acoustic guitars, percussion etc) from Foulds.
I know the people in both shops, so it's nice to pop in, have a browse, ask questions, try things out.
Yep, trying things out. If you're going to splash out a few hundred quid on an instrument, you want to try it out, right? Right?
Apparently not, as people are parting with large sums of money for instruments online without trying them first. That, to me, is simply bonkers. For a number of reasons.
Firstly, and I don't want to get too new age about this, but you need to bond with an instrument. It needs to feel right in your hands and play the way you want it to. Honestly, two of the exact same instruments will feel different to you.
It needs to sound right – not in the hands of a virtuoso 14-year-old on Youtube, but in your hands.
The problem with buying online is what I call the four-star nightmare (I don't actually call it that; I just made it up). Everything has an average rating of four stars. Ten people will have rated it five stars because it's just, like, amazing and two people just couldn't get on with it and gave it one star.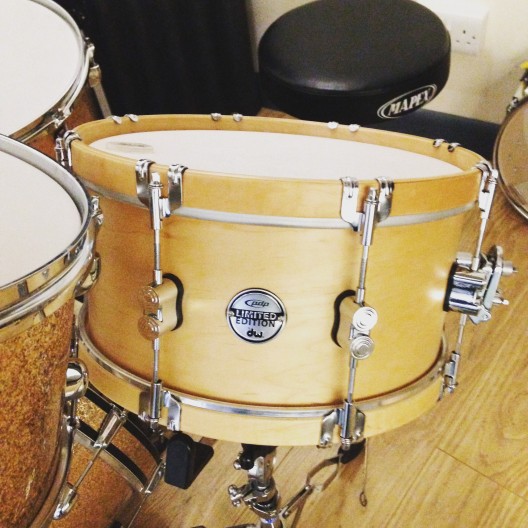 So, that top-of-line, super-duper-deluxe acoustic guitar made out of 4,000 year old oak, carved by virgins, painted by Picasso, kissed by Ed Sheeran and costs ten grand? Four stars. And that crappy, cheapo plastic guitar in shocking pink with strings that sound like dead weasels? Why, four stars.
So then you start comparing prices. And reviews. And star ratings. And prices. And more reviews. And Youtube clips. And some people LOVE it! But a few people hate it and you go round in circles for ever.
It's honestly quicker and easier to go to a shop.
The other day, I walked into Rattle and Drum and asked for a new snare, with a nice, woody, deep tone; maximum price, £200. Within a minute, they'd shown me exactly the drum I needed, I bought it, within 15 minutes it had made itself at home on my kit.
The snare is awesome, the service was awesome, my driving home was awesome (some would say) and there were no delivery charges. No 2-3 days delivery. No comparison of reviews because I used my ears instead.
One more example – a few years ago, I popped into Foulds with £1,000 for an acoustic guitar. I tried out a dozen or so and came out with one that cost £500, just because it felt right and played the way I wanted it to. I went home feeling like I'd gained £500 and a guitar. No doubt if I was online I would have spent the whole £1,000 on something that might not have been right.
So, go to your local music shop, see what they've got, ask questions, try things out, find a bargain and maybe even find that special instrument that stays with you forever.