I recently produced the new album Ripples From A Small Pond by Phil Lewis, a singer/songwriter from Cardiff. Maybe I'm biased but I think it's Phil's most accomplished and complete album in his lengthy recording career.
However, the recording of the album was not without its problems.
Phil's father died after a battle with Alzheimer's just before we started recording. Then I went down with a mystery fever and ear infection.  Then Phil contracted Crohn's disease.  Then my Mum was diagnosed with leukaemia.
The album was a focus point for us through these trying months and although some of the songs are quite upbeat, there is a mysterious shadow hanging over the album and the production, as if some otherworldly ghost had slipped into the mix.
Phil's brief for me was to use up-front acoustic guitars, world percussion (and a ban on full drum kits!) and lots of ambient textures.
As he was based in Cardiff, Phil would email rough acoustic demos to me as and when he'd written them. On his demo he'd include any ideas he had for the arrangement, little riffs or what sort of instrumentation he'd like on there. That was handy for me to use as a starting block.
Phil came into the studio over a few weekends to nail the vocals to acoustic guitar. I then arranged the rest of the instruments around Phil's vocals.  We also got other players to embellish the songs with cello, some tasteful saxophone and some 'carnival' bass.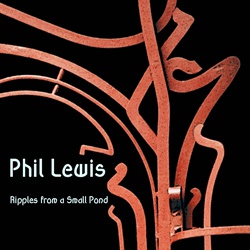 The finished album has a Paul Simon/Brian Eno feel, with a nice ambience and each track merging into the next. My personal favourite songs are the Pink Floyd-like ode to stage fright I Live In Hope and the defiant, pumping New Page.
A combination of an added maturity to Phil's songwriting combined with the struggles we encountered during recording added a bit of tension to the songs and extra depth to the sound of the album.  I'm really pleased with it and I know Phil is too.
The above Youtube video is a clip of a song called Bright On All Sides which I think sums up the album's moody, minor-key personality quite nicely, along with a rather genius stop-start animation video that Phil himself put together.
Hear the album in its entirety on Spotify or buy on iTunes.
By Ben Haynes