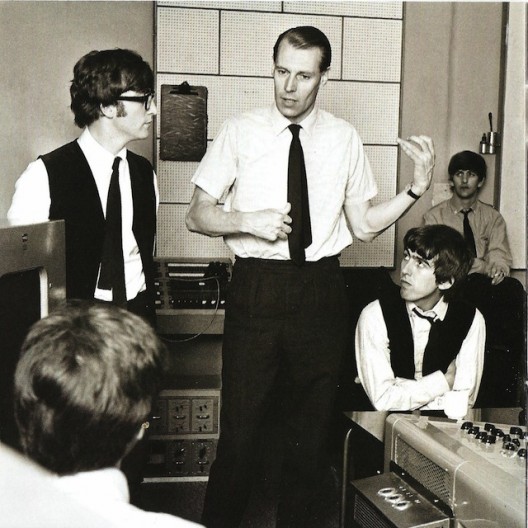 When I was about 13, I was given a short careers interview at school before choosing my GCSE options. When they asked me if I had any career options in mind, I told them I was going to be a record producer.
If they'd have asked a week earlier, it would have been a slightly different answer, but as it happened the interview was just a few days after I'd watched a documentary on TV about the making of The Beatles' Sgt Pepper.
What struck me was how much the members of the Beatles relied heavily on their producer George Martin. It seemed he had the best job; pulling things together, sourcing random instruments, throwing bits of tape around to the studio for random sections, telling the orchestra to zoom up their scales without listening to the person next to them. Until I watched that documentary, I thought producers just pressed record and read the newspaper. Now, I wanted to be one, and I wanted to be like George Martin.
An undisclosed number of years later and I still do want to be like George Martin!
He was a wonderful musician and producer; he had an "anything is possible" attitude in the studio, he let artists explore their ideas fully, take risks, create new sounds, create hits.
His role in making the Beatles what they were cannot be underestimated. He signed the band to Parlophone when no other label would touch them. He took risks with them, letting them write their own songs and encouraged their bloom of extraordinary musical innovation in their final four years.
When they wanted backwards vocals (Rain), a "musical orgasm" (A Day In The Life) or the heaviest sound ever heard on record (Helter Skelter) he didn't discourage them or say it couldn't be done.
"Challenge accepted," he said.
He was a great arranger, writing the orchestral arrangements to all their songs. The brass on All You Need Is Love (bah da da-da-da!). The beautiful strings on Yesterday and Eleanor Rigby. The orchestral climax of A Day In The Life.
And if you want proof of how much of an influence his presence was on the Beatles' music, listen to Let It Be, the final album released by The Beatles. It's a competent album but pales in comparison to the others and certainly doesn't have the undefinable zest of a Beatles album. Why? Because it had minimal involvement from George Martin, and was eventually produced and arranged by Philip Spector.
Of course, he did a whole lot more than just the Beatles but there's no time to go into that.  He was a great producer, musician and gentleman and someone I aspire to be, every day.  What a guy.  RIP Sir George Martin!