PART 1 – BACKGROUND
Hey folks, as a lot of you know, I recently moved into a brand new, purpose-built studio. I've had a lot of people ask about it, want to see photos etc, and now I'm finally at a stage where I can show it off a bit.
Given that this is going to be a pretty long blog and don't want to bore you all in one go, I've decided to split it into parts and post it over a few days. So…
For the last few years, I'd been working from my attic. It was a snug little creative space, and lots of people loved b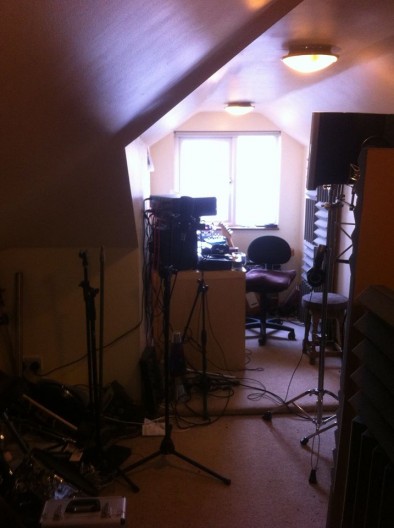 eing in there but it was only meant to be temporary and it had its limitations. For example, anyone over about 6'3" had to stoop and I could never fit a drum kit in there without dismantling pretty much everything else.
The tipping point for me came late in 2013 when my son was born and I had to sneak up and work quietly whenever he napped – which was a lot! For my professional standard of working, the attic just wasn't cutting it.
So, in early 2014, I started looking for some places to rent or buy. I wanted to stay in my home village Spondon; mainly because I like to have access to the studio at any time. I'm often inspired at random times, first thing in the morning or late at night, and so I needed a place within walking distance.
I visited a few properties but none were really suitable, so the idea came up to have one built. I went onto Google to do a ton of research on garden recording studios; how much they were, who makes them, what they're like to use etc.
The thing with building a studio in a residential neighbourhood is that you don't want any noise getting in or out. So, just as my neighbours don't want to hear multiple drum takes, I don't want their lawn-mower noise ruining delicate acoustic guitar parts.
After a lot of research, I chose a company fairly near to me, called Extra Rooms. The head guy there is passionate about getting the soundproofing down to minimal levels and he sent me plenty of nine-page emails explaining his thoughts and ideas.
I must admit that I was kind of terrified. The studio was going to cost a lot of money, which we didn't really have! What if the room wasn't soundproof? What if it was too small? What if it sounded rubbish inside?
These were all valid questions, but David at Extra Rooms arranged for me to see a superb similar room they'd built for some professional string players in Cardiff and that put my mind at rest.
We were on the way! This picture shows how the studio looks now but there was a lot of work getting it there.  Watch this space…