The very nature of this game means that I can be working non-stop on a number of projects for months, but until those projects are complete are ready for release I can't really shout about them.  That's the stage I'm at now, so I just wanted to quickly mention what I'm up to and what's coming up, so you don't think I'm sitting around playing solitaire.
Karl Lund is an immensely talented scouse and his new EP, featuring some tracks produced by me, will be available soon; I'll keep you posted on that.
Tomorrow, Kezia Gill is returning to the studio to work on some new recordings.  Her last album, Adventures of a Travelling Mind, was a superbly written 'catch-all' of styles, but this one will be more country/acoustic.
David Lacey is an immensely prolific and hard-working pro singer/songwriter from my home county of Derbyshire and we will start work on his new EP in March; he's come to me for a slight shift in style and he's got some great songs with him…
Throughout February, I've been working on an EP with my namesake Ben Haynes, a singer/songwriter with a brilliant voice and some excellent songs.  One of which, I'll admit, got me a bit choked up. We're just waiting for a pedal steel track to be finished then it's ready for mixing.
A long-term project has been working with US-based Allison Gray (see my last blog); I've worked on five songs with her and they are, without doubt, something pretty special.  Watch this space.
I'm a good way through the second album by George Simpson and it's already better than the first one, which I didn't think could be achieved.  Some superb songs and a bit more sonic diversity this time.
Ruth Discua is a superb vocalist/pianist/songwriter and we're currently halfway through her EP of simple and short but exceedingly catchy songs.  She's done an impression of a jazz trumpet on one of them.  It has to be heard to be believed.
I worked with a great singer/songwriter called Hannah Howe on a beautiful song called Sunflower Friend towards the end of last year and I'm looking forward to working on more songs from her over this year.
Likewise, I worked with Natalie Beniston on Take Me Home, a gypsy swing track that seemed to go down very well when I posted it on Facebook, and should be producing more songs for her later in the year.
My January 50% offer was taken up well and I've already produced tracks for Graham Clark and Matt Atkinson.  I'll post those up when I get a spare minute.
Aside from that, I've finished a sweaty rock track for an Australian girl called Crystal Rose, a series of drum tracks for Mr Marshmallow, some weird guitar beat things for Annie Afrilu, some piano ballads for composer Neil Woolfson, then the possibility of working with two former X Factor contestants and dozens of other things.  Phew.
And finally, I had a lot of people ask who the mystery artist was that I mentioned in my November blog.  Well, I genuinely can't say as (a) their management asked me not to and (b) communication from said management has been scarce and I really don't want to start talking about it and then for it to not happen.
But no, it's not Lady Gaga.
And finally, a quick Player Of The Season award for my trusty friend, the AKG C414B XL II (catchy name, lad), who has worked his little microphone bottom off over the past couple of months.  Thanks, lad.  Have a rest and a bowl of soup.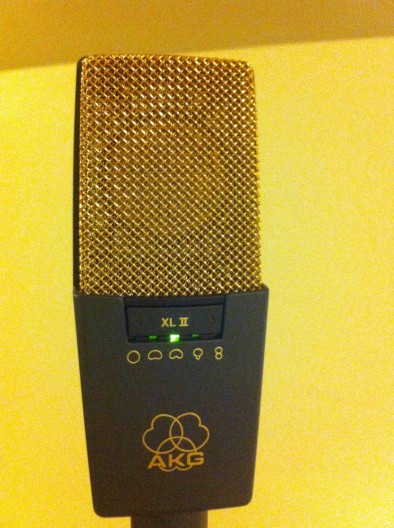 By Ben Haynes