One of the artists I've worked with the most over the years is Cardiff's Phil Lewis.  After I played guitars on his debut LP and produced his second, we hit our collective stride on 2011's excellent Ripples From A Small Pond, creating a warm fusion of acoustic, AOR, ambient and world music.
Recorded over Autumn 2013, his new EP is released this week.  It's pretty similar in style to Ripples From A Small Pond (except, thankfully, Phil lifted the challenging "drum kit ban" imposed on that album!) but everything has been tightened and honed.  It's a leaner, meaner affair featuring some of Phil's best songs to date.
In fact, one of the great things about Phil is that his songwriting genuinely seems to get better with each release, so I was expecting great things from the set of demos he sent for this EP, and he certainly delivered, composing my two favourite songs of his – Imprisoned and Age of Nothing.  I've always thought Phil's darker songs bring out the best in him, and most of the songs on this EP are lugubrious in an ominous kind of way (thanks, Thesaurus).
Imprisoned was the first song we worked on and actually came together pretty quickly. One word: EPIC.  Huge creamy vocals, big drums and guitars, assertive piano stabs; it's even 1.15 before the vocals come in.  Phil's always happy for me to go off and experiment with weird things, so the three Ebow drone-guitars were done without listening to the track.  I just made sure I was in the right key and off I went. The parts where they harmonise are completely chance.  Vocally, we went for a richer, darker vocal tone for Phil from the offset and it set the standard for the rest of the EP.  I absolutely love this track.  And Phil commissioned quite an extraordinary video to go with it…
Title track Age of Nothing is a rarity; a very hooky commercial-sounding song, but one that has a real zest and depth of emotion behind it.  Phil got a superb and quite intense vocal performance down and we really stacked up his vocals in the chorus.
Musically, it's a real hotchpotch that comes together surprisingly well.  A bit of Florence and the Machine, a sprinkling of Indian influences, a tablespoon of Doves, and a pinch of Merseybeat for the chorus, 50ml of guitar ideas, a touch of plaintive organ and some chopped garlic and lemon juice.
Thankfully, we had a much less traumatic time recording this EP than we did recording his last album, when all manner of curses seemed to befall us, particularly Phil.   However, the final track on the EP, Calling Me, is like coming out of a tunnel and appears to offer some resolution to the darkness of the rest of the EP and the album before.  It points to good things ahead, and if Phil continues writing material of this quality, I'll look forward to getting my hands on it!
Age of Nothing is available on iTunes, Spotify andAmazon.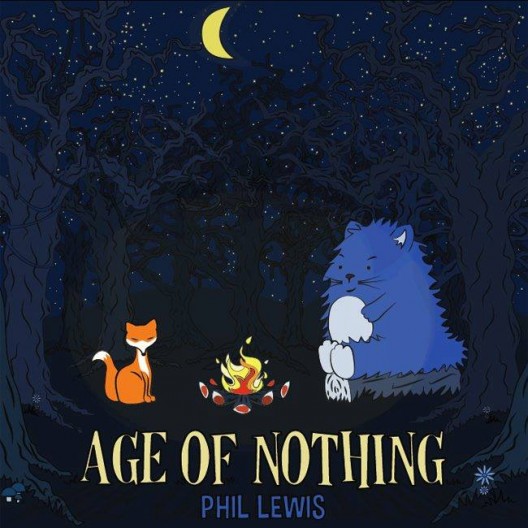 By Ben Haynes